MUSIC FROM SHATROVETS
Characters – 17 male, 5 female
First production – Drama Theatre – Blagoevgrad, 1973
Directed by Lyuben Groiss
Drama Theatre - Blagoevgrad, 1973 / Directed by Lyuben Groiss
Dimitar Manchev, Nikolay Chobanov, Petar Tasev and Ivan Burzev
The word music, which is part of the title of the play, is a parable for the undying will for resistance against political dictatorship. The concrete case (the action takes place in a Bulgarian village in 1943) deals with the struggle against the pro-fascist Bulgarian regime during WWII, however the multi-layered and portentous content leads to associations with the political dictatorship that settled in the country after the war. This is the reason why though the plot line is simple and unpretentious (an ending in tragedy but going through many comedic twists and turns story of attempt at the saving of an injured underground resistance fighter) the fate of the play on its road to production was not unproblematic.
With the play Ìusic From Shatrovets are connected the names of the emblematic directors from the 1970s and 80s Lyuben Groiss (Drama Theatre – Blagoevgrad, 1973) and Stoyan Kambarev (Drama Theatre – Ruse, 1989). It has seen 11 professional productions in Bulgaria, as well as ones in Theatre SNP – Martin, Slovakia, ORF (Austria's National Radio), Bulgaria's National Television.
It was awarded at Bulgaria's Fifth National Survey Of Drama And Theatre.
The play is translated in German and Slovak.
Drama Theatre - Blagoevgrad, 1973 / Directed by Lyuben Groiss
Elena Kovacheva, Kiril Vurbanov, Vihra Kotova, Mladen Mladenov and Dimitar Gerasimov
It has been a long while since we have been present at a stage production in which the realistic stream of the work is so multi-layered, complex, enthralling. The content of this realistic stream are the images, vital observations, the unexpected psychological outcomes, the overall composition of the work… In  Ìusic From Shatrovets the evaluatory moment is hidden very deeply but does, in fact, scream from the paradox in the nature of the images, in the final scenes where a completely mercilessly level of realistic observation is reached.
Nikolay Lyutskanov, «Narodna Mladezh» newspaper, 03.07.1974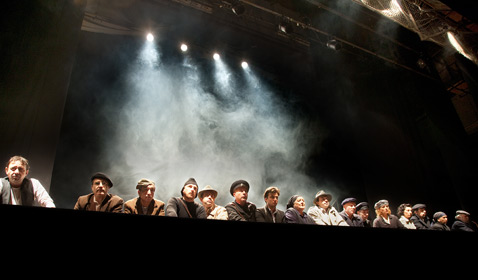 Drama and Puppet Theatre "Konstantin Velichkov", Pasardjik, 2009,
Directed by Margarita Mladenova
Drama and Puppet Theatre "Konstantin Velichkov", Pasardjik, 2009,
Directed by Margarita Mladenova
Dimiter Kusev, Johanna Mikova, Bojan Mladenov, Diana Dosseva, Georgi Kermenski
Drama and Puppet Theatre "Konstantin Velichkov", Pasardjik, 2009,
Directed by Margarita Mladenova
Grosdan Daskalov, Wesselin Mischev